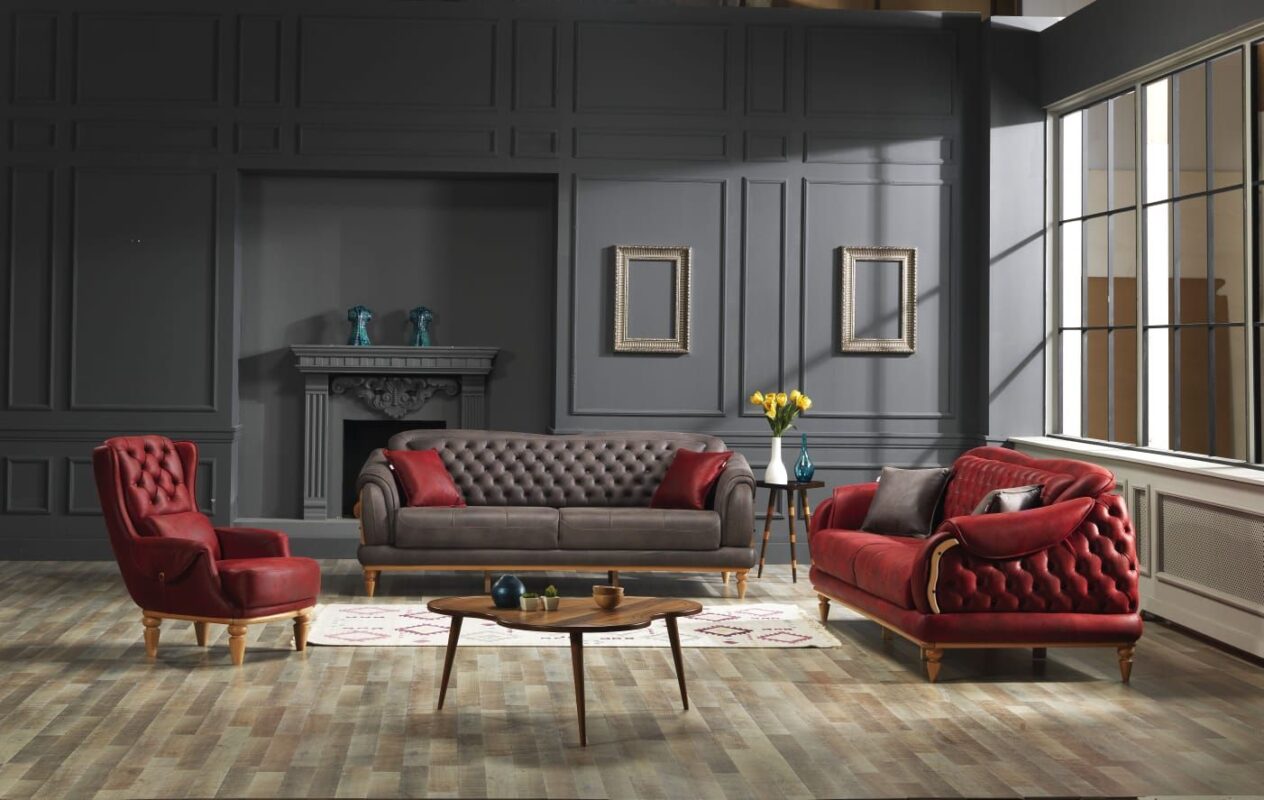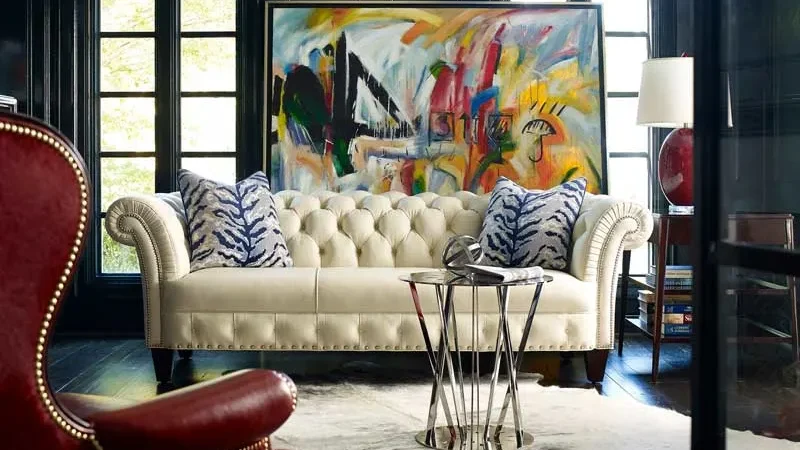 1. Black and white decoration
Therefore, it is not surprising that this timeless icon shines in a unique way in decoration as classic as that of the black and white pairing, always a guarantee of elegance and refinement. Thus, a white 'Chester', like this one by Hancock & Moore, with a modern design gains power and strength when faced with a black wall and playing with accessories in 'black & white'.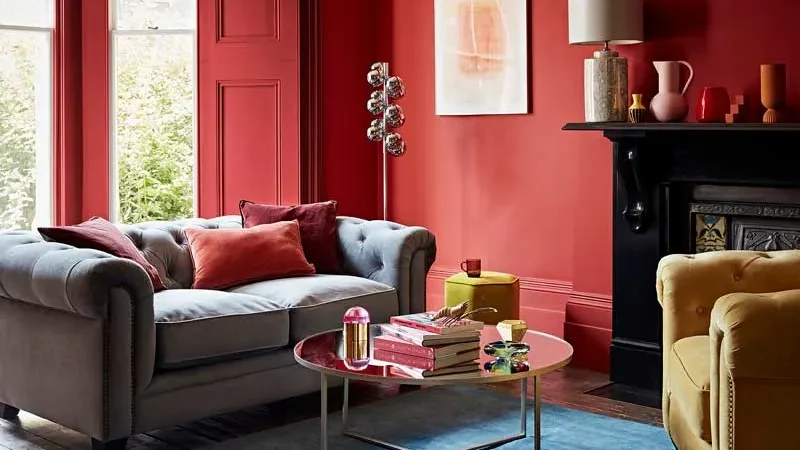 2. A classy modern
Although its style is mainly classic, the Chesterfield sofa fits perfectly in modern decoration, as long as it is well accompanied. You can play with the color of the walls and bet on intense tones that reduce their seriousness or light tones, making it the space's centerpiece. You can also include a carpet, kilim type, geometric shapes, or incorporate a coffee table with a current design of wood or metal.
3. In an industrial key
Despite its stately character, it was a regular at English clubs in the 19th century, the industrial style seems to be made for it. In a loft-like space, with concrete or brick walls and surrounded by metal accessories, the classic brown leather Chesterfield sofa, like this one from Maisons du Monde, fully contributes to recreating this urban and informal decoration. If you want to create contrast and enhance it more, try associating it with colors like burgundy or green.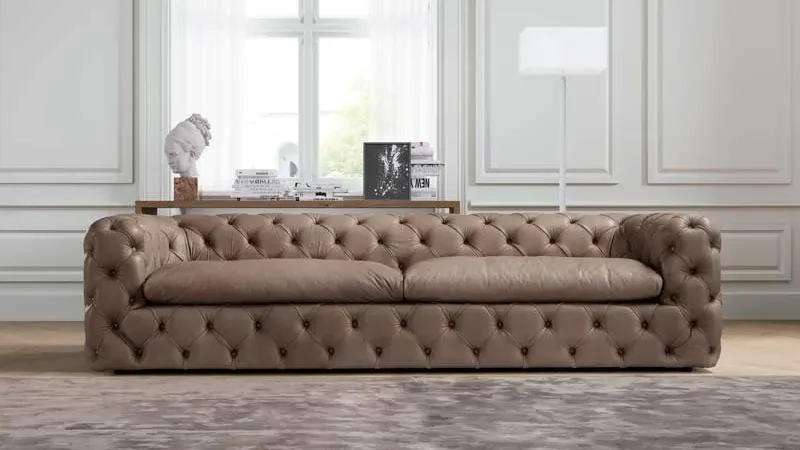 4. An updated classic style
If there is something that the Chester sofa, this is from Seanroyale, cannot be denied in its aristocratic character, which is why it feels like a fish in water in classic rooms, even baroque ones, where there is no lack of decorative moldings on walls and ceilings. . To create a perfect ensemble, try to include a pendant lamp with a chandelier or similar design and some paintings or sculptures. To finish, paint the wall in a contrasting color and surround it with accessories in darker tones.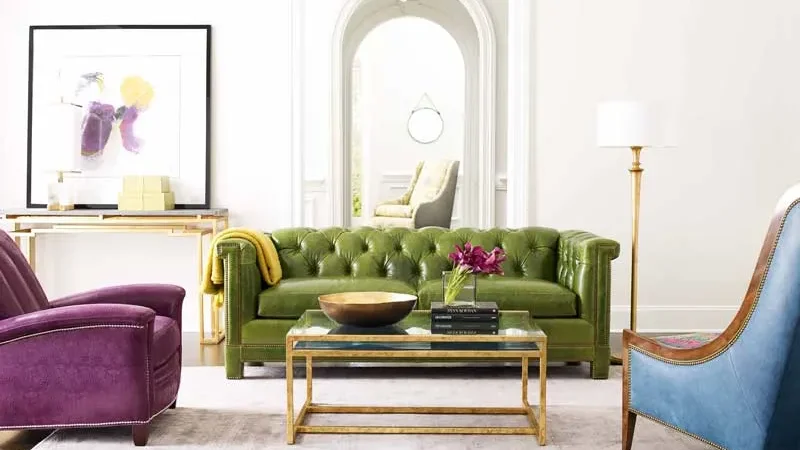 5. Full color
Although the years do not pass by, the new models are updated and looking for their own place in the current houses. In addition to leather, today's 'Chesters' are upholstered in different fabrics, velvet is one of its best allies, and colors, like the green of this Hancock & Moore design, although we also find them in yellow, red, purple, shades that create a decoration full of life. The idea is to include it in a neutral base, with white walls, although if you prefer to coordinate it with the coverings, it is better to balance the set with sober and simple accessories.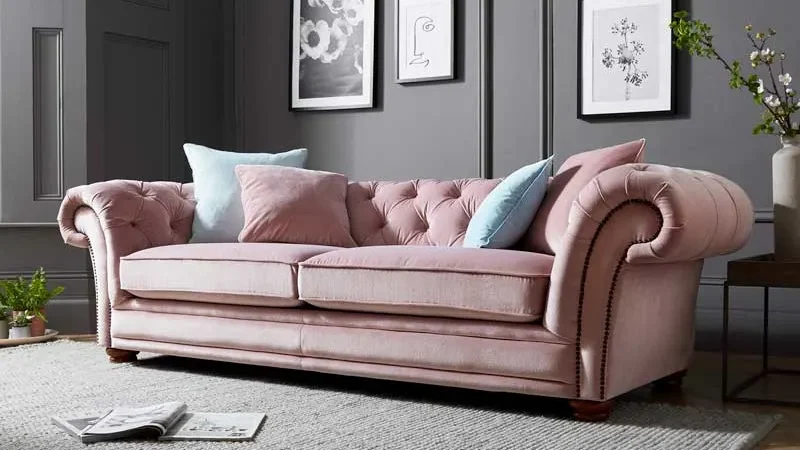 6. In Nordic interiors
Stained in a pastel color, preferably pink or blue, the 'Chester' sofa easily participates in a Nordic decoration of which it is the highlight. Seek the help of grey, as in this proposal by Sofology, and resort to pieces of light wood, which immerse us in a universe that is both classic and impregnated with sweetness, as if from another era. You can accentuate its softness by placing green plants and decorative accessories, such as paintings or candles, that give clarity to the room.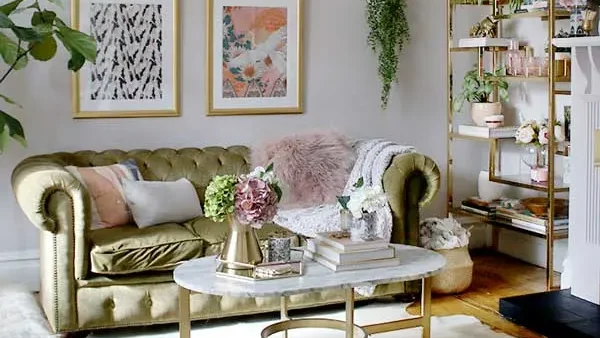 7. Retro air
The 'vintage' style of the Chesterfield sofa finds a good interior design partner in retro decoration, since, in addition to sharing the past, they never go out of style. Remember that a house with a 'vintage' soul does not have to be full of antique furniture, but must be mixed with contemporary pieces that give it a plus of modernity and style. This 'glam' proposal by Swoon Worthy enchants us with its decadent and sophisticated air and its shine, also those of the 'Chester' in aged green.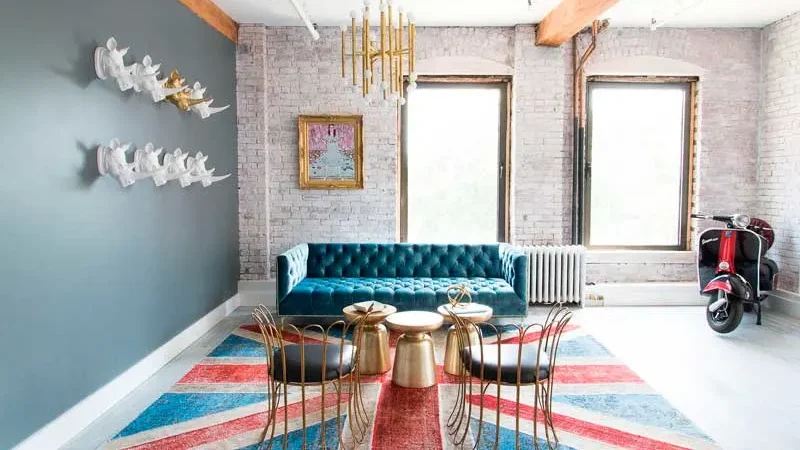 8. 100% 'British'
Its history dates back to 19th century London, they say that the Earl of Chesterfield, hence its name, asked for a hard sofa to be made for him, to keep his back straight and the result was this leather sofa with a quilted back. Therefore, if you want a very 'British' look, bring out its origins with a model like this, with a carpet with the British flag included. You can reinforce the effect with red or blue brushstrokes on the cushions or the curtains, for example. Try, yes, always maintain certain sobriety.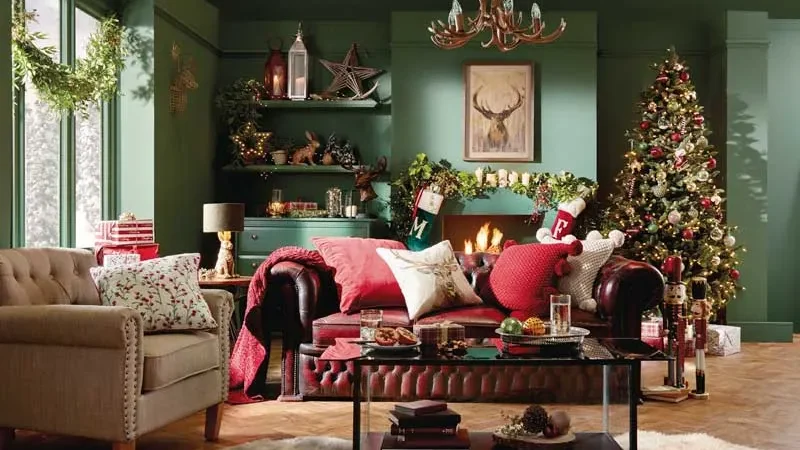 9. A 'cozy' environment
Did you think that the 'Chester' could not fit into a family environment? This Matalan proposal shows you the opposite. To achieve that feeling of home, it is enough to fill it with cushions and soft blankets, which create an atmosphere and surround it with natural or stained wood and green plants. Of course, the Chesterfield will be even warmer and more welcoming if it is upholstered in an intense and welcoming color, like this red.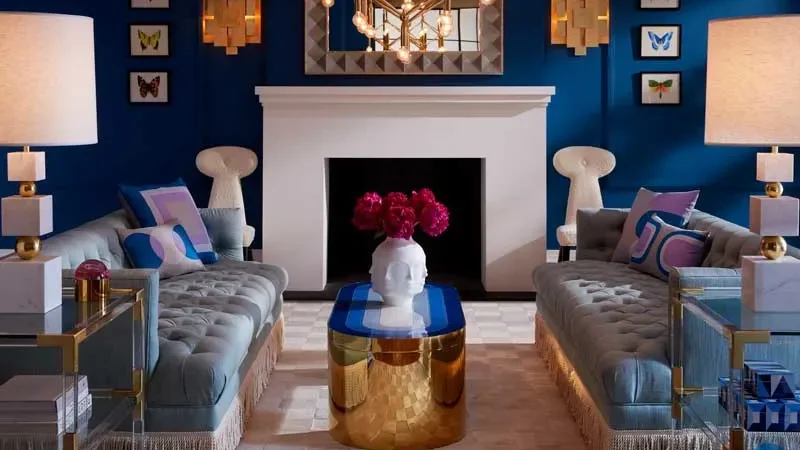 10. In the 'lady' version
We don't know if it's the fringes or the combination of blues on the sofas and the walls, but the truth is that this design by Jonathan Adler claims its place as the main piece of feminine decoration, very much in the style of the 21st century. To reinforce that sensation, he introduces some golden brushstrokes and some curved pieces of furniture, which reinforce the 'lady' character.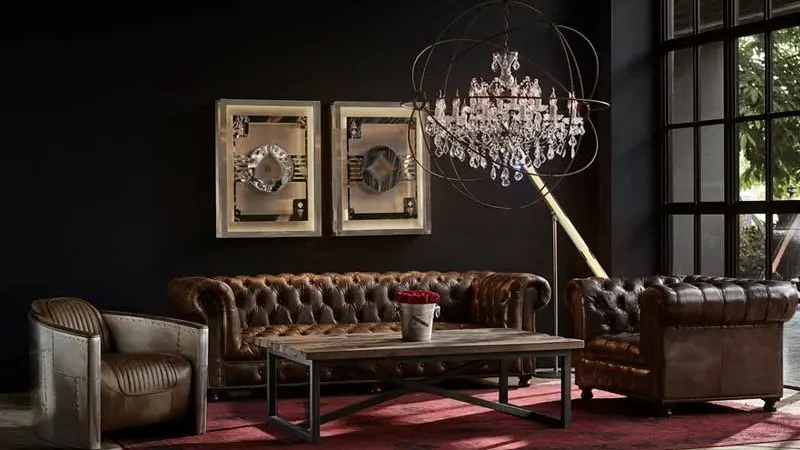 11. A masculine interior
Although he is a chameleon and is not afraid of any style or color, surrounded by dark tones and metallic objects, Chesterfield is a true gentleman and designs a decidedly masculine living room, which takes us back to its origins. Obviously, to reinforce that feeling, it must be the classic model in brown leather. Also, bet on the mixture of textures, to give movement and comfort, and for a color base in black, gray, or even green.
12. 'Chic' and sophisticated
The Chester sofa, like wine, feels good over the years and, no matter how old it is, it always seems to be in good shape. His aristocratic past means that his mere presence brings a touch of 'glamour' and sophistication to the room. The velvet version is especially elegant and, if it is also dressed in black, it has everything to grace the living room decoration with its presence.
☞ ♥ Click here to get your Chester Sofa !!!♥ ☜