---
Changing the sofa in the living room, or buying one if you are decorating your new home, is not an easy task. You want it to be comfortable, decorative, and affordable, and meeting so many requirements is not always easy. If, in addition, you need it to have a certain size and extra seats, things get considerably more complicated. Here are the keys to success.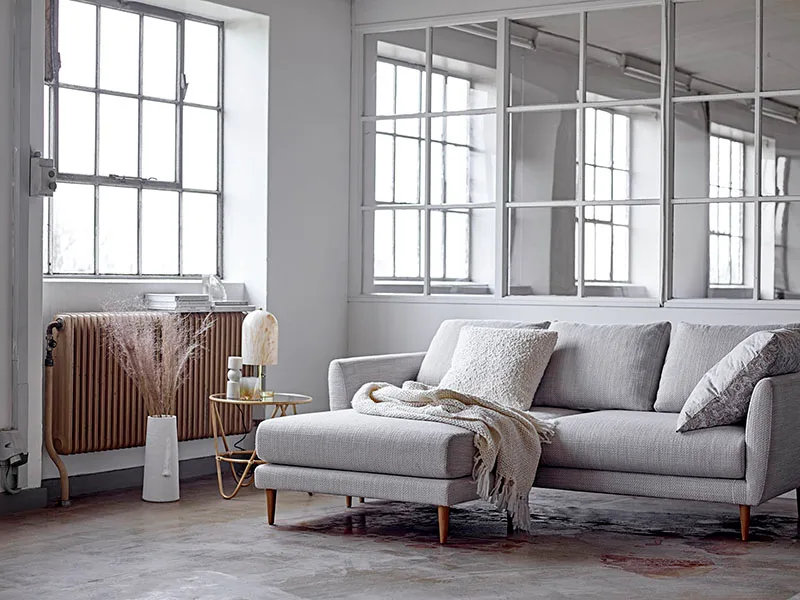 ---
How to choose a sofa with a chaise longue?
If you are considering changing the sofa, the first thing you should do is assess what aspects you should take into account to try to make the right choice. It is clear that to know if a sofa is comfortable, you have to sit on it and, preferably, not just for a moment, but for a long time.
However, we do not always have the opportunity to test it so thoroughly, so we must be guided by certain aspects that are important. In addition to choosing a sofa that we like, it must adapt to the space where we are going to put it (in terms of size and shape).
You also have to think about the number of people who will use it regularly to know if you need a three-seater sofa, a two-seater sofa, or a sofa with a chaise longue.
More seating space
If there are many of you at home and you do not have enough square meters in your living room to put two sofas or a corner sofa, a model with a chaise longue may be the solution, since it will provide you with extra seats if you need them, both during the day and day as on special occasions when you gather with friends or family around the coffee table.
On the other hand, a sofa of this type can become the ideal solution for one person to lie down without taking up the rest of the space.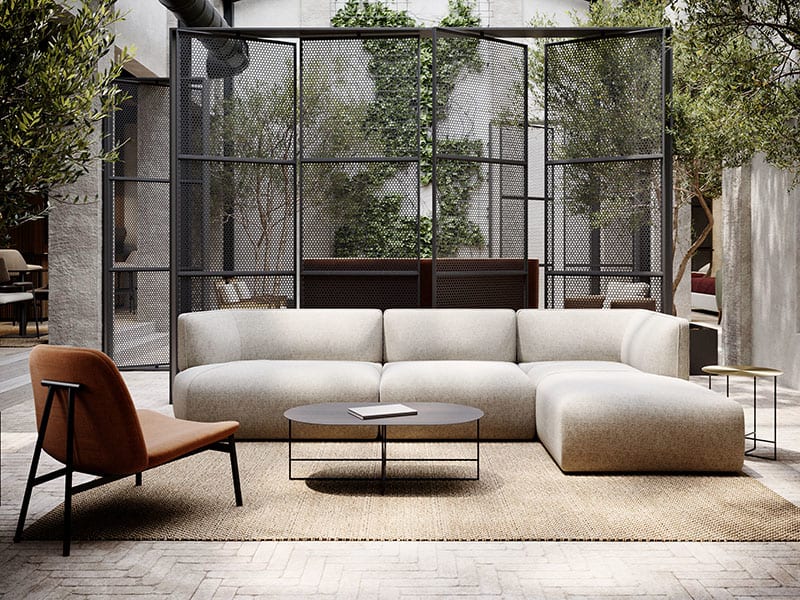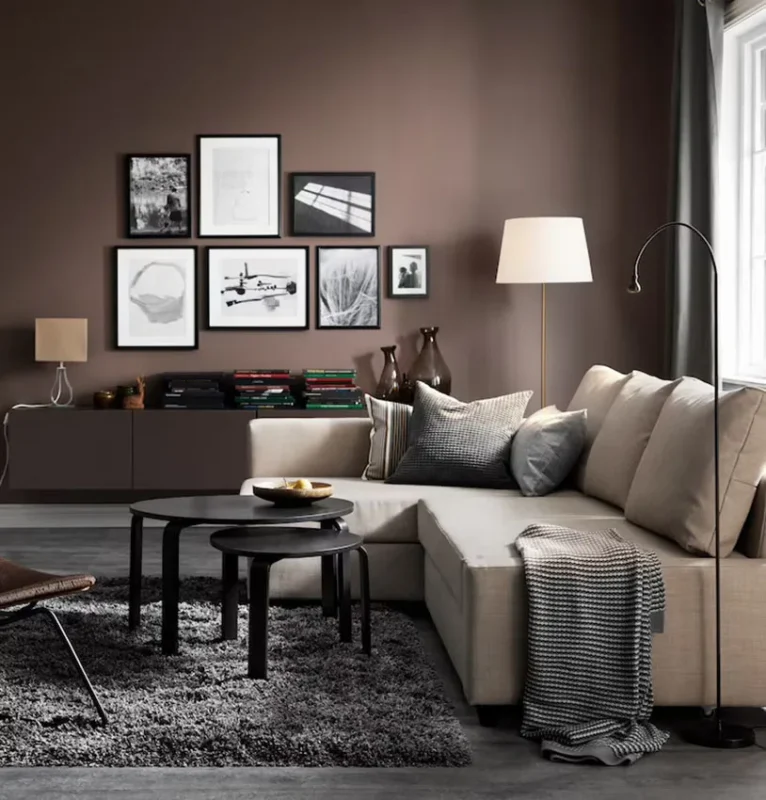 Take measures
This point is especially important. Before choosing the sofa with chaise longue, you must carefully measure the space you have available to find the right model. A sofa that is too big for your living room will become a nuisance and, in addition, it will attract too much attention.
If the sofa you like has three seats, which is the most common when they have a chaise longue, it must be at least 2 meters long, although the ideal is 2.5 m. The length of the chaise longue must be 150 or 160 cm, although there are 140 cm models for very small rooms.
A plus of comfort
Who does not like to lie on the sofa to be more comfortable or take a short nap? Thanks to the chaise longue you can stretch your legs and find a very comfortable position to watch your favorite series or read a good book. And all this without occupying the entire sofa.
It is important to choose a model that has a quality structure, to increase its durability. It must be made of solid wood so that it is resistant and does not deform over time. The most used woods are pine, fir, or beech. Another suitable option is for the sofa to have a metal, aluminum, or steel structure.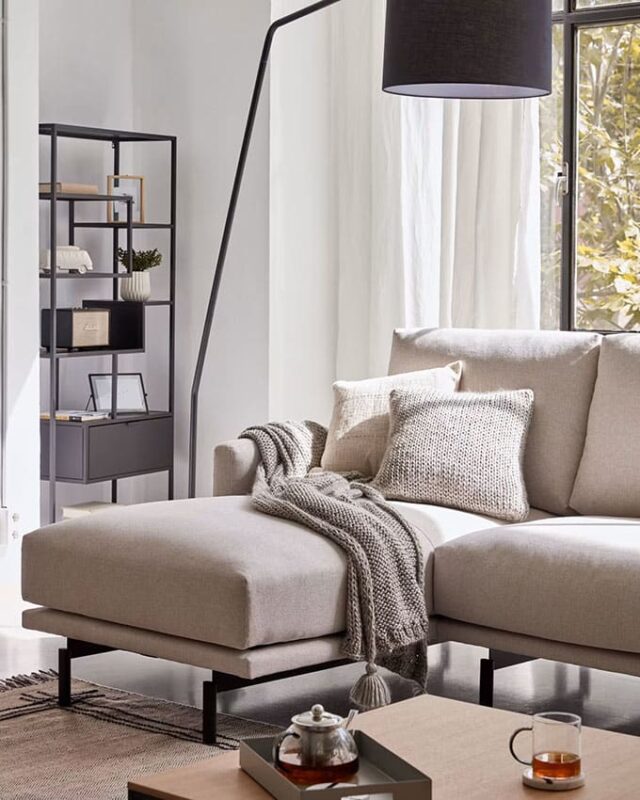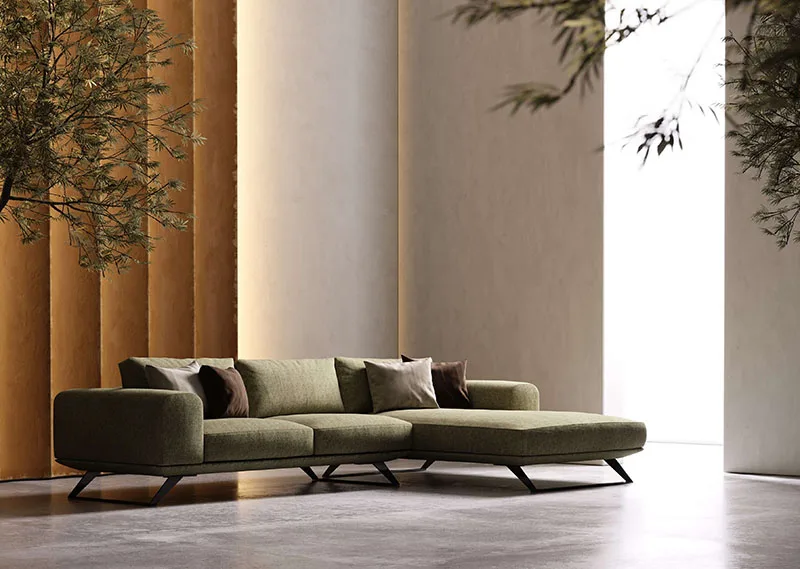 A very versatile piece of furniture
This is one of the greatest qualities of sofas with chaise longues: the ease with which they adapt to the characteristics of the available space. To install a sofa of this type, it is not essential to have two walls forming a right angle since the part of the chaise longue does not necessarily have to have a wall behind it.
On the other hand, in most models, it is possible to choose to put the chaise longue on the right or on the left. You can also choose the size or type of backrest that you want it to have, taking into account that the chaise longue does not have a lateral backrest, but the arm normally extends to the middle of the seat.
The differences with the corner sofa
If you have a large and spacious living room and you need a lot of seats at home, corner sofas are a very practical alternative. The fundamental difference between these and those with a chaise longue is that corner sofas have backs on both sides of the sofa and form a right angle.
In the case of models with chaise longue, these do not have a backrest and are usually smaller, since the side where the chaise longue is shorter.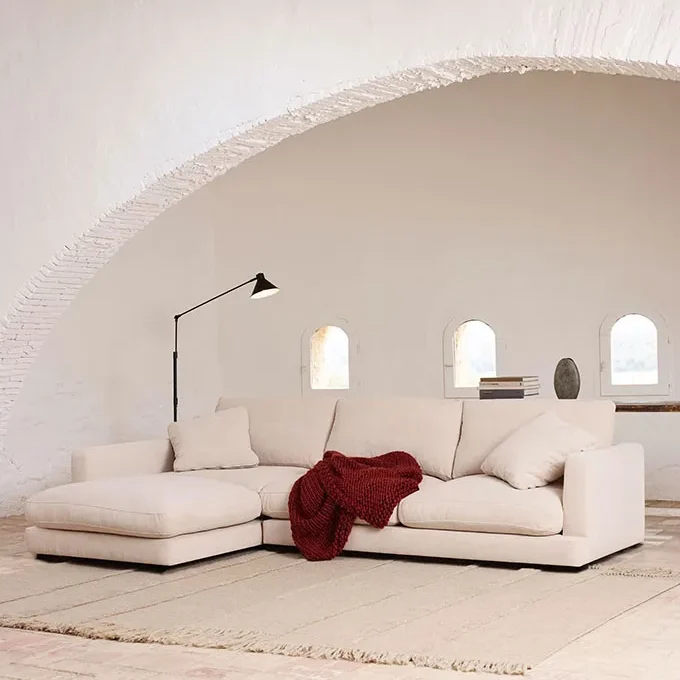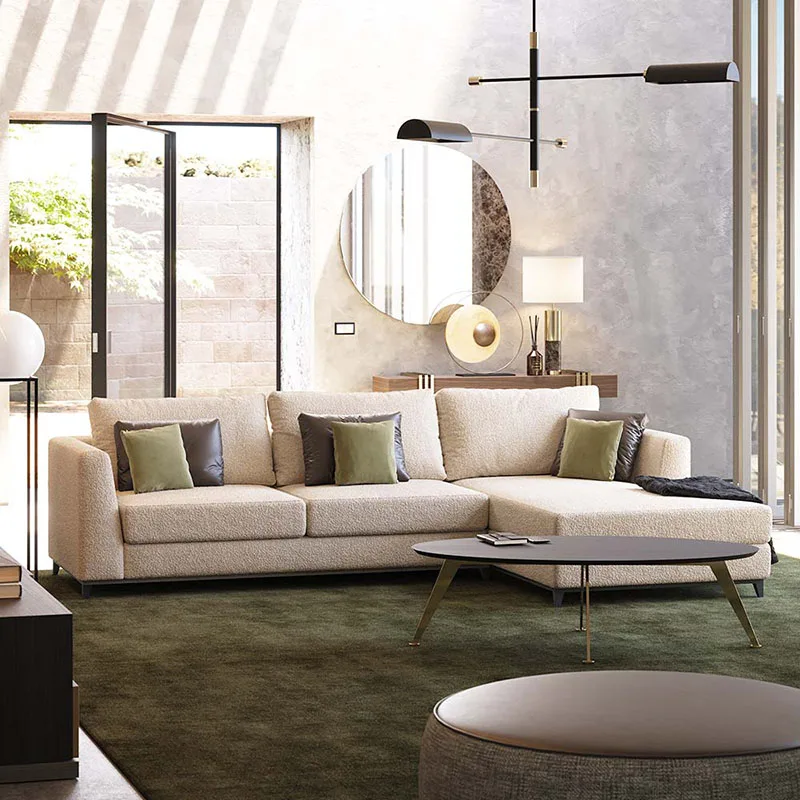 Choose the best upholstery
The variety of upholstery for your sofa with chaise longue is so wide that you won't know where to start choosing. The sofas can be made of leather or fabric and, within the latter group, of many fabrics from cotton or linen to chenille, including various synthetic fibers.
– Opt for fabrics with anti-stain treatment, much easier to keep clean.
– Make sure that the back and seat cushions are removable so that you can clean them at home.
– When choosing the color of the sofa, decide on one that is not too light, so that you do not have to clean it so quickly, but also not too dark and bright, so that the sofa does not become an excessively striking element. In that case, it would have too much visual weight in the room. Neutral colors are usually a wise choice.
Think about the filling
This is an important chapter, just as if it were a three-seater sofa to use. That the sofa has cushions with quality filling is an important issue, which directly affects its comfort.
To achieve a sensation of comfort, you should look for good padding, which can be made of foam or fiber and, to a lesser extent, feather or down.
– Foam is the most common material, as it offers firm support and low maintenance. It can be high-density foam (the cushions are very firm) or low-density (with a soft or medium firmness).
– Fiber fillings are, as a general rule, polyester and are usually used for back cushions or arms, not so much for seats.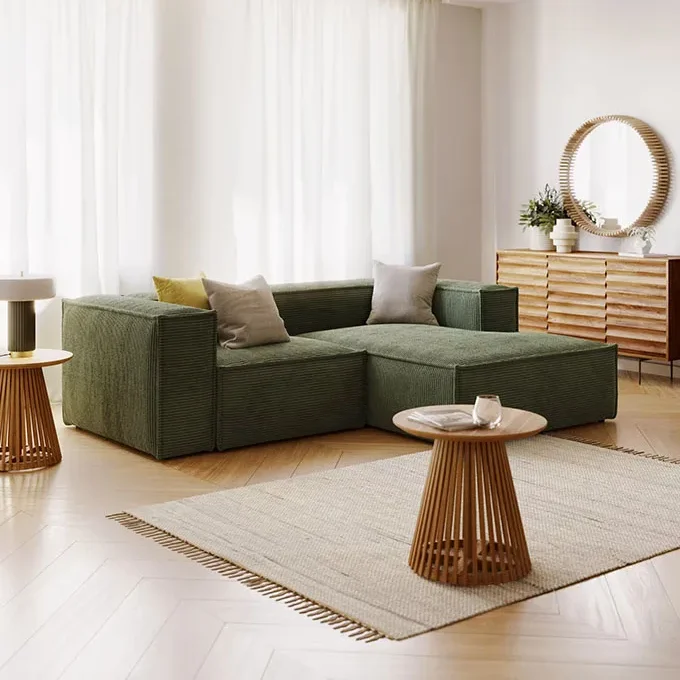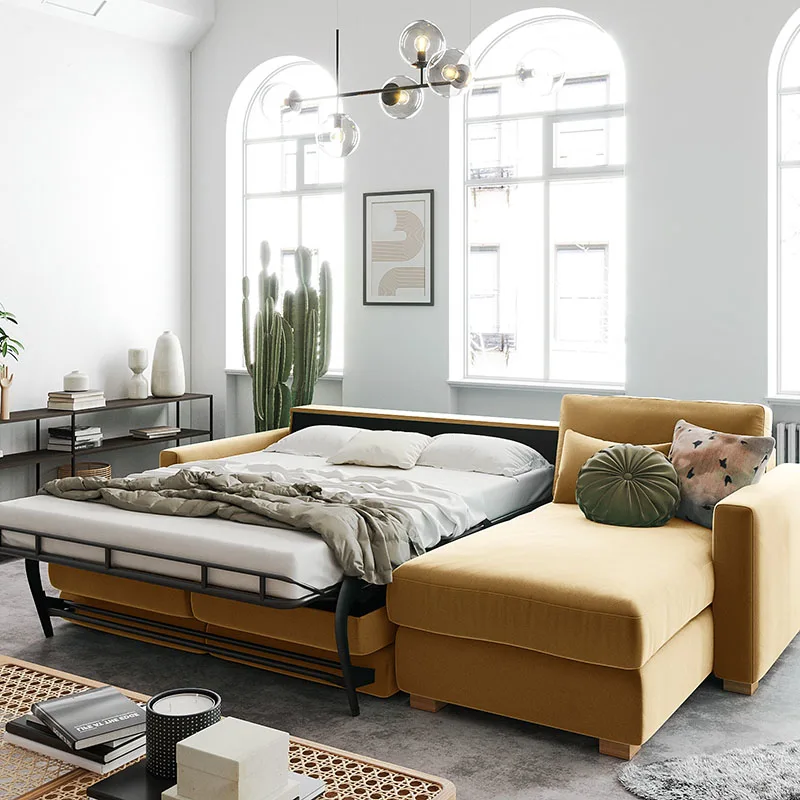 Extras to add to your sofa with chaise longue
Not all sofas with chaise longues are the same. Some models incorporate very interesting features to take into account.
– Choose a sofa with a chest under the chaise longue seat. It will offer you additional space to store many things: from blankets or plaids to additional cushions, board games, magazines, and books, etc. You will have everything at hand but without it being in sight, and you will gain visual order.
– A sofa bed with a chaise longue can be the solution to your problem of lack of rooms at home. If you do not have a guest room, it is a good idea that your sofa can become a comfortable bed when you need it, regardless of whether it has a chaise longue or not.
– A reclining headrest is an element that brings a lot of comfort to any sofa.
☞ ♥ Click here to get your New Sofa !!!♥ ☜